Sicilian Caponata and condiments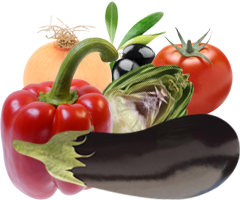 The Caponata of vegetables Castello d'Angio will change your way of eating!
The Caponata of vegetables is a typical product of the sicilian gastronomy, made with fried vegetables with sweet and sour sauce.
The origin of the name "Caponata" is still uncertain : does it come from Spain and a recipe with fish and molluscs, before conquering sicilian tradition as a meal plenty of vegetables. Nobody knows, the only thing that you can be guaranteed is that the caponata is a singular meal, true mixture of flavours and aromas, and Castello d'Angio offers you all its variants.
Condiments with vegetables
Among all the different Castello d'Angio's condiments, you will find also grilled vegetables, mix of vegetables marinated in olive oil, and vegetables rolls ready to be tasted.