Cream, pâté and pesto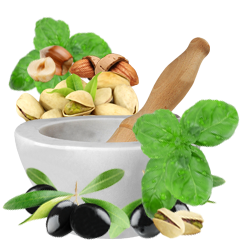 Originality and generosity in your dishes !!
Our pestos derive from our passion for ingredients and the most popular italian recipes : fresh basil genovese, the delicate cheese with the registered designation Pecorino Romano, the flavour of italian sun-dried tomatoes.
Creamy with an intense flavour, they are unmatchable to go with your pasta.
The Castello d'Angio's pestos are only prepared with the best ingredients, without adding chemical preservatives or food colouring, for the pleasure to bring to your table a wonderful recipe.
Eat healthly with natural products!!
Creams of our products are perfect to go with pasta, rice, gnocchi or to make crostini, or to bring out the taste of different types of meat, eggs, grilled vegetables or boiled vegetables.